I know I know, I need to post something else other than other people's stuff... but here's the thing, there are more creative minds out there than my own. I have found that I can copy anything. So, that's what I do. I copy. I'm a copier. And here is a really awesome wall that one day, I will copy!
This next beauty, one of my most favorites, was found at
OhDeeDoh
. Is not the O and the Z just precious? I love that with these walls, pretty much anything goes. You have tiny letters to large letters, and in the end, it just pulls together so nicely.
And then there is
this
one, ah! Look at the globe and the life preserver!! Hobby Lobby is actually selling the life preservers right now, and last week at least, they were fifty percent off!
Now aren't those just inspiring? I am starting to collect. And by the time I get all the letters and have a house with a wall big enough to put them up, it will be out of style. But I don't even care! THEY WILL GO UP! :-) You can find more ideas from
Be Different, Act Normal
.
types of leather
Leather is any tanned, toughened (yet pliable), dried, and dyed skin of an animal. Thanks to modern dyeing processes, most types of leather can be found in nearly any color. Some leathers, however, are best known for particular colors.
Buckskin
: Pliable leather with a smooth finish from wild stag (deer, elk or antelope).
Chamois
: Leather originally made from the Alpine chamois, a goat-like animal. Nowadays, it's culled from sheepskin. Chamois is well regarded for its supreme softness, absorbency and light tan color. It is pronounced SHAM-wa, or parochially, SHAM-ee.
Calfskin
: Leather from young cows. It's a smoother leather, but it can be roughened to create "velour leather," or embossed with patterns and other textures. It is considered dressy and is usually found in darker shades (blacks and browns).
Cowhide
: Leather from full-grown cows that is used for shoes, boots and jackets. Tough and durable, it can have a smooth or rough finish. You'll find it in all colors, but mostly shades of brown and black.
Lizard skins
: Crocodile, alligator and other lizard skins are usually limited to belts, luggage or shoes. They sport a scaly texture and a nice sheen, and can be had in shades of green, Grey, red, and brown.
Pigskin
: Pigskin is more commonly used in South America. It has little nap (fuzz) and is generally smooth to the touch and tan in color.
Ostrich
: An "exotic" leather found on belts or shoes. Ostrich resembles a plucked chicken, and as such, has a "goose bump" appearance.
Suede
: Suede is created when the reverse side of calfskin is roughened to the point of extreme softness. The resultant nap almost resembles velvet. Suede goods can be had in all major colors.
Emm Kuo Handbags is only 7 months old, but it's already causing a commotion in the accessories world due to its exotic textiles and modern designs.
Parsons graduate and designer Emmaline Ranzman always knew she would go into fashion. Born in Taipei, Taiwan, and raised in New York and Hawaii, Ranzman continually felt a connection to the Big Apple and knew that is where she had to be.
After graduating from high school, she retuned to attend New York University, where she majored in design marketing and art history. Originally in the public relations and marketing side of fashion, Ranzman got an internship in London at the renowned LVMH Group, the makers of brands such as Louis Vuitton and Dior.
"It was the best opportunity. I got to see what a big corporation was like, but they're also so innovative and artistic," she said. "I got to see how being in fashion and being in design was meant for me."
Ranzman returned to the mainland, but didn't go into design immediately. She was offered a job at Entertainment Media Works, where she worked with stylists and designers for a new media start-up.
"The more I worked with stylists and designers, it made me realize how much I wanted to design … My true passion has always been in design," Ranzman said.
Finally convinced, Ranzman decided to take the risk and not worry about the "starving artist" stereotype.
In 2008 she attended Parsons for a year-long intensive course in which she studied womenswear. Although it didn't have an accessories emphasis, Ranzman definitely took a liking to the classes. Shortly thereafter, she worked for designer Catharine Malandrino.
"It definitely helped when I was designing my own line," the 28-year-old designer said. "Catherine is so great with texture and color and mixing materials."
She was lucky because Malandrino had recently started an accessories line, so Ranzman was able to contribute a great deal to the new division of the label.
Although her aesthetic is very different from Malandrino, Ranzman shares that love of texture and color.
"I always knew I wanted to do exotics, but I wanted to make it more youthful, so I mixed the bubble leather with python and suede," she said. "I think mixing materials can give it depth and layers."
She was also very focused on the hardware, which she said "makes a good bag stand out."
While thumbing through an old book on military jackets, Ranzman was inspired to create her signature Emm Kuo toggle. She then drew it, and had it casted and molded.
Although the designer has fashion experience in almost every category, from marketing to womenswear design, she felt especially drawn to accessories.
"I feel like accessories, especially bags, all types of people can wear them – all ages and all body types," she said. "When I think of certain bags that I have, a Chanel bag or a Balenciaga, those bags are so timeless that you can pass them on from generation to generation. It has longevity almost."
Her Spring 2011 will soon be carried at Intermix stores, and she's produced a few bags to be sold at A Man and A Woman in the West Village.
Her Spring line boast bags in creamy python prints, baby blue suede and glamorous metallics.
She describes her aesthetic as "feminine and romantic, but it's always been a little bit edgy."
She revealed that she didn't want her line to be so strong that women would be afraid to try it, but rather a collection that has a bag for everyone.
"I wanted to create accessories that uptown and downtown girls could both wear," she said.
Right now the designer is working on Fall/Winter 2011. She hinted at a new suede, some leopard and custom, handpainted pony hair pieces.
"The second collection is more for someone that likes handbags with a strong finish to them," she explained.
Ranzman said she was inspired by her travels in Asia and old films such as "In the Mood for Love."
When it comes to cleaning suede footwear, we all think about it twice before we wear, don't we? Are suede shoes too difficult to take care in? Suede is a beautiful fabric, but, unfortunately, it can be a challenge to clean. Plus, professional suede cleaning can be quite costly.Here are the some hints to protect and extend the life of your suede:
The first point to make is that treating your suede or nubuck shoes with a protective spray or finish will help to repel water and prevent stains. If that ship has already sailed, at least you'll know for future reference to protect before wearing.
The Spring/Summer 2011 Collection takes shape with AcneStudios early. The "Wall Street Jacket" offers a solid silhouette to the traditional blazer cut. "The cool single-breasted jacket with notched collar that speaks business and so much more." The fitted plain weave jacket comes in black or navy and the pants are optional. A nice breath of fresh air amidst all the workwear. It's available at AcneStudios.
Last year's Sneaker News Top 30 list was a smash hit with readers, so with 2010 coming to a close, it's time to get down to business again and reveal our selections for the year's best sneaker offerings. Anyone can make a list of their favorite sneakers, but the aim of the SN Top 30 is to capture a cross-section of the shoes that made the biggest impact on the sneaker world in the last year. After scouring all the countless kicks that dropped in 2010, we began narrowing down the best of the best and eventually put together what we felt to be a strong representation of the finest footwear to release during the last 365 days. The tentative top 30 choices were then passed along to members of our staff and other sneaker associates to rank from 1 to 30, with the average results eventually going on to become the final order for the official Sneaker News Top 30 Sneakers of 2010 list.
TOP TREND 1 -
NEW MINIMALISM
- EXPENSIVE LOOKING NEUTRALS - CAMEL COATS
- The 2011 trend is for 'Statement Coats' in beautiful quality materials such as camel cashmere mixtures or soft neutrals - tobacco, taupe, Grey, navy, oyster, white and black. Invest in clothes that are wearable time and again. These coats shown below are all from matchesfashion.com coat range. As you can see, they move from tobacco, dark camel, golden camel to creamy oyster giving a tone and length to suit everyone. The coats above are from Jaeger, Hobbs and Alexon AW10 and all masters at high street quality tailoring. The coats below are from Matchesfashion.com and the variations in price are due to the fibre content, with cashmere attracting a premium price.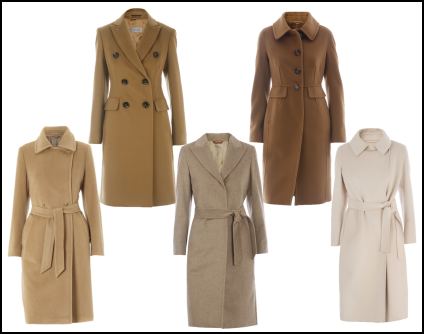 2011 Fashion Antelope finish suede
pair of MT580's comes with a predominantly light Grey suede upper
Elizabeth and James 'More' Suede Pump
fashion forward design by Velvet Angels
Fashion and maroquinerie are the two main sources of inspiration
2010 was an interesting year. a lot has happened in the past 12 months, but aside from our more personal lives, what i am grateful for is this blog that sophia & i started in february, which allowed us to document our thoughts throughout the year.
going through our 200+ posts definitely puts a smile on my face.
here are my best of 2010 moments on the haute commodity...
[1] our very first post. was mary kate smiling or screaming? not so sure...maybe that's why i love this photo so much!
[2] immersing into the blogosphere led me to anna dello russo -- the fiercest editor ever.
[3] while sophia expanded on her collection of Loubous (aren't her maggies so gorgeous?)..
[4] ...i kept adding to my collection of wedges :)
[5] the return of the maxi skirt. i'm sure we'll continue seeing this in 2011.
[6] carrie mulligan was fantastic in An Education (one of my fave movies of the year), and has also become one of my favorite red carpet dressers
[7] 2010: the year of glee, matthew morrison, and raquel zimmerman
[8] finding my mom's vintage karl lagerfeld paris necklace
[9] thank you gerogia may jagger for proving that girls with gap teeth are hot
[10] joseph gordon levitt stole our hearts in (500) days of summer
[11] baked + decorated these couture cupcakes for sophia's bday. not too shabby.
[12] one word to describe this year's look? UTILITARIAN.
[13] this was my first time styling a photo shoot. five girls, a roomful of clothes & accessories, and one amazing day of shooting.
[14] freja, white, and wang.
[15] kate moss' last collection for topshop
[16] a much needed night out with the ones we love
[17] the haute shop! hopefully we'll be able to expand this next year.
[18] "work" - a Refinery 29 event at Revolve's store.
[19] my first time styling a fashion show in l.a.. <3 LAMIXX!
[20] carine roitfeld bids adieu to vogue paris. looking forward to the next chapter..
[21] sophia gets engaged! a perfect way to end a fabulous year.






thank you to all our friends + readers.
hope you enjoyed reading our blog as much as we loved writing it!
xoxo
a+s
More lovely sweaters with lovely different shapes...I think the Classic speaks for itself, the Peasant has to do with the embroidery and Tailleur was an unfamiliar term, but is defined as "a woman's tailored suit". So there you have it!
Athletic-inspired anoraks were fringe fashion last year, but are now mainstream. They're a super lightweight, casual cover-up that'll give your look a sporty edge with lots of style. You'll find them shiny or matte, long or short, and neutral or colored. Fabrications like nylon, polyester and acetate give them a particularly authentic active appearance.
I like anoraks best when they're contrasted with dressy attire, like a little black dress, dark jeans, slacks, swanky walk shorts and fancy shoes. This is a rather avant-garde, high fashion look, so it's a little tricky to pull off if you don't get the components right.
I'll bypass this trend – the less sporty trench is more my style. But If you're an active zip-up-and-go kind of gal, than the fashion anorak look might be for you.